The Age and Sydney Morning Herald by Farrah Tomazin and Cameron Houston
As pastor Neil Thomas was demanding sexual favours from the women he had selected from his church, he'd invoke the Bible to convince them it was their spiritual duty.
"Anoint me with oil, just like Mary Magdalene anointed Jesus with her alabaster jar," he would say, urging them to touch him. In doing so, he promised, they would be "called by God".
For years, faith and fear had kept his victims quiet.
They were vulnerable, searching for guidance, wanting to belong. He was a self-appointed "apostle" of Christ boasting 72,000 global followers and a network of churches and bible colleges branded under his name: Neil Thomas Ministries.
But beneath the surface was something far more sinister than the holy messages Thomas preached.
Former members claim the evangelical ministry operated like a cult. Families were discouraged from talking to anyone outside the church, and those who refused to heed directives were threatened with curses or excommunication.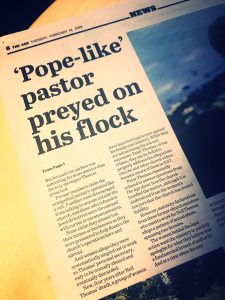 Some claim they almost lost their homes or businesses as they were pressured to help finance the church's operations here and abroad.
And women allege they were systematically singled out to work as Thomas' personal secretary, only to be sexually abused and eventually discarded.
Now, four years after Neil Thomas' death, a group of women have launched legal action against his family-run ministry. While they are not accusing his son and successor, Peter Thomas, of any crimes, they say he failed to properly address the allegations once he and other church elders became aware of them in 2017.
Peter Thomas repeatedly refused to answer questions from The Age and Sydney Morning Herald about how the church handled the matter, although it is understood from the women's lawyers that the church has denied liability.
However, statutory declarations from three former church members who used to work for Neil Thomas allege a pattern of sexual abuse, spanning two decades.
The women behind the legal action want the ministry to publicly apologise for what they believe was a fundamental breach of authority. And at a time when the new #ChurchToo movement is sweeping through faith-based communities, they have decided to share their stories in the hope that other survivors might also come forward.
"These women were abused by someone they trusted, someone who invoked religion to prey on the vulnerable," their lawyer, Gordon Legal associate Marina Leikina, told The Age and Herald.
"He preyed on their faith and knew there was little chance they would ever say no to such a powerful figure. Sadly, these women have had to carry the shame of what they were forced to do, and continue to live with that."
Remember, getting expert advice early can save a whole of stress, both financial and emotional.
No win, no fee
Help when you need it most without the added stress of upfront legal fees engaging a
no win, no fee lawyer. When you need legal help, understandably, the first thing people often think is 'can I afford it? To address this, our Senior Partner, Peter Gordon and Partner, Paul Henderson pioneered the 'no win, no fee' system to create greater access to the legal system.
We are here to help
When you're ready, give us a call or click on the button below to send us a message. It will go straight to a caring and committed member of our team who will contact you within 24 hours.