27/08/2018
A class action is being considered in response to high levels of arsenic contamination in Diamond Creek.
Gordon Legal is currently investigating cases of high levels of the chemical left behind by abandoned gold mines in the area.
EPA Victoria has done some soil sampling and found very high levels of arsenic in one property in particular.
The family at this property has been tested and found arsenic in their bodies.
Gordon Legal Associate, Fiona Rothville said the firm is in the early stages of investigating the issue.
"We are in the early stages of investigating how wide spread this is and how many people may be affected. Based on this, this may result in a class action." Rothville said.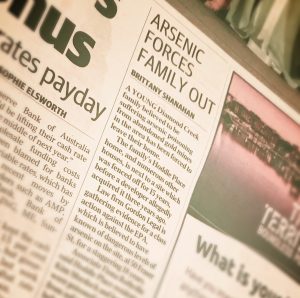 "The EPA knows this is a serious issue, but frankly their response has not been good enough, particularly given they have known about this issue since 2000."
Rothville said residents are being told to cover potentially contaminated soil with top soil, keep their children inside, mop outside areas and wash pets regularly.
"We just don't think it's good enough to expect residents to solve a problem like this by popping down to Bunnings and buying some top soil to cover it up," Rothville said.
"In particular, trying to tell people to keep their kids inside and wash their pets and mop outside areas is just ridiculous.
"If people in the area want more information, give us a call – it won't cost you anything to have a chat but may at least offer peace of mind or help in dealing with this concerning issue. Call us on 1800 21 22 23."
No win, no fee
Help when you need it most without the added stress of upfront legal fees engaging a
no win, no fee lawyer. When you need legal help, understandably, the first thing people often think is 'can I afford it? To address this, our Senior Partner, Peter Gordon and Partner, Paul Henderson pioneered the 'no win, no fee' system to create greater access to the legal system.
We are here to help
When you're ready, give us a call or click on the button below to send us a message. It will go straight to a caring and committed member of our team who will contact you within 24 hours.