14/09/2018
Gordon Legal Senior Partner, Peter Gordon joins award-winning political journalist, Lyndal Curtis and well-respected Labor politician, Jane Garrett for a new ten-part podcast series launched today called Beyond Reasonable Clout.
Presented by the Herald Sun, the podcast will cover high profile issues spanning law, sport, current affairs and politics.
Gordon said the trio would take on high-profile issues, with a focus on justice.
"We want to unpack the kind of stories people are passionate about, go beyond the headline and provide an engaging discussion," Gordon said.
The series will feature prominent guests, including different Herald Sun journalists each week.
The first episode, available to download now, sees the trio address the topic of concussion in sport with Herald Sun Senior AFL writer, Jon Ralph.
Beyond Reasonable Clout will be available to download through the Herald Sun website and on iTunes.
You can also find the first episode here.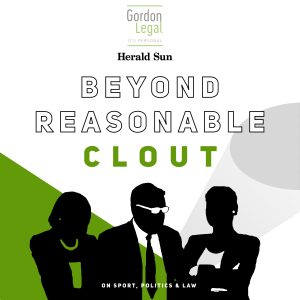 No win, no fee
Help when you need it most without the added stress of upfront legal fees engaging a
no win, no fee lawyer. When you need legal help, understandably, the first thing people often think is 'can I afford it? To address this, our Senior Partner, Peter Gordon and Partner, Paul Henderson pioneered the 'no win, no fee' system to create greater access to the legal system.
We are here to help
When you're ready, give us a call or click on the button below to send us a message. It will go straight to a caring and committed member of our team who will contact you within 24 hours.