07/04/2018
Geelong Advertiser opinion piece by principal lawyer Rachel Schutze.
If readers were asked what they think of when the topic of WorkCover comes up, I suspect there would be a recount of a tale of a twice-removed cousin's freak accident involving a power saw and no longer attached digits.
For others, it may be the powerful and emotive WorkSafe ads that depict the dreaded accident and the loved ones left behind.
Fair to say, there is quite a bit of misconception, plenty of myths and, sadly, an outdated stigma that continues to linger over making a WorkCover claim.
It's unfortunate, because WorkCover at its core is an important safety net that is in place to make sure if you get injured at work, you get access to first-rate medical treatment so you get back on your feet, feel better and can get back to work. It also provides compensation in the form of weekly payments and, for many people who suffer permanent injuries, lump sum compensation.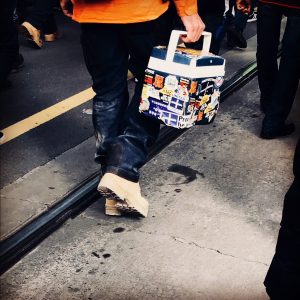 For such a simple concept, it is amazing the myths that shroud it. The end result of that means a lot of people who could have life made that bit easier through better medical care or compensation go without something to which they are entitled.
One of the biggest myths is that if you have had a previous injury to a particular body part and then re-injure it again at work, you can't successfully pursue a WorkCover claim because of the previous injury.
Not true.
Imagine a bloke in his late forties who has had sporadic back pain with occasional treatment over the years. He had previously been diagnosed with a disc bulge. He has, with some treatment, been able to maintain full time work.
Then, one day at work, he picks up a very heavy box in the course of his employment, suffers a disc prolapse with associated pain into his legs, known as sciatica. While his previous history of disc bulge is relevant to his WorkCover claim, the prolapsed disc and the significant increase in pain and decrease in range of movement is a new work-related injury and should be accepted as a WorkCover claim.
Too often I have been sitting across from a worker who has been injured in similar circumstances. By the time they have found their way to me they have often been terminated from their employment, are on a wait list for surgery in the public health system and have never lodged a WorkCover claim and accessed support and compensation they were entitled to.
Another common myth is that if the injury does not occur while at work you cannot successfully bring a WorkCover claim.
Imagine a woman in her late fifties who as part of her daily work is required to climb up and down a set of 50 stairs up to 30 times a day.
She has had years of grumbling knee pain which has increased over time. She seeks occasional physiotherapy treatment and is sent for an MRI, which shows progressive degenerative deterioration of her knee joint.
One day, she wakes up at home in the middle of winter and as she gets out of bed, her knee buckles underneath her and she struggles to walk. Well-meaning friends and family tell her because it didn't happen at work she cannot successfully pursue a WorkCover claim. Rubbish.
The law looks at whether there is a substantial connection between her work and injury. The 1500 stairs that she climbs and then descends each day could be a significant cause of her injury.
By the time she obtains advice, she is several years post-injury, is in constant pain, on a disability pension rather than on WorkCover weekly payments and has stopped having physiotherapy as she has exceeded her Medicare allowance and cannot afford to pay for the service privately.
The purpose of WorkCover legislation is to assist and support injured workers. The safety net it provides — while often difficult for injured workers to navigate — is essential to the fabric of our society and, at a local level, the Geelong community.
If you think this doesn't affect you or us as a community, you are wrong. WorkCover myths abound and are often the result of well-meaning but ill-informed advice from friends, family and colleagues.
As a result of the myths, injured people do not get access to advice and do not get access to the Victorian WorkCover system, which can make a meaningful difference to how they recover, how quickly they recover, whether they return to work, how they get access to medical treatment, the compensation they receive and how their dependants, their children and their families, live their lives.
No win, no fee
Help when you need it most without the added stress of upfront legal fees engaging a
no win, no fee lawyer. When you need legal help, understandably, the first thing people often think is 'can I afford it? To address this, our Senior Partner, Peter Gordon and Partner, Paul Henderson pioneered the 'no win, no fee' system to create greater access to the legal system.
We are here to help
When you're ready, give us a call or click on the button below to send us a message. It will go straight to a caring and committed member
of our team who will contact you within 24 hours.