17/11/2018
Sunday Herald Sun
Dozens of families hoping to build their dream homes at a Diamond Creek estate fear their land is poisoned with arsenic.
Landowners at the Collard Rise estate are being told by Nillumbik Council to conduct their own soil tests — which could cost up to $5000 — before building permits will be issued.
The housing development in Melbourne's outer northeast is near the abandoned Nillumbik Gold Mine, which started in the 1860s and continued sporadically until about 1950.
Soil remediation has been conducted in some parts of the estate but it is believed the mine site was much bigger than first thought, triggering residents' angst.
Gordon Legal associate Fiona Rothville said hundreds of people, including many young children, could be affected and the council had left families in the dark.
"There could be significant consequences if contamination is found at their property or properties surrounding them,'' Ms Rothville said.
"At this stage no testing has been done which should have been done many years ago.''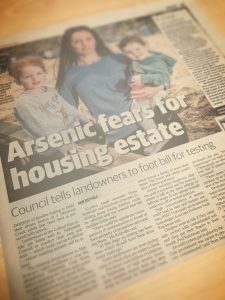 No win, no fee
Help when you need it most without the added stress of upfront legal fees engaging a
no win, no fee lawyer. When you need legal help, understandably, the first thing people often think is 'can I afford it? To address this, our Senior Partner, Peter Gordon and Partner, Paul Henderson pioneered the 'no win, no fee' system to create greater access to the legal system.
We are here to help
When you're ready, give us a call or click on the button below to send us a message. It will go straight to a caring and committed member of our team who will contact you within 24 hours.