05/03/2019
Gordon Legal's Principal Lawyer, Rachel Schutze has questioned the Chief Health Officer's investigation of cancer rates on the Bellarine Peninsula.
The report, released in January followed media coverage of a potential cluster of cancers on the Bellarine Peninsula and historical use of a category of agricultural pesticide known as organochlorine pesticides (OCP's).
It found no unusual excess of cancers associated with Dieldrin (which is just one of many OCP's), however, the government is also in possession of documents which show the presence of DDT in the area.
Ms Schutze called into question the robustness of the data used in the report, as well as the thoroughness of the report and its conclusion.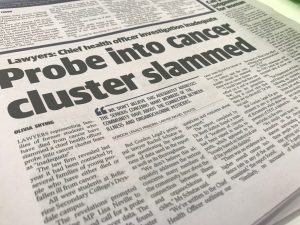 "We don't believe this adequately addresses the serious concerns many members of the community have about the connection between illness and organochlorine pesticides," Ms Schutze said.
"We've written to the Chief Health Officer outlining our questions and concerns about the report."
"We simply need more information on the circumstances surrounding all of these people from the Bellarine getting sick."
"A question for the people of Bellarine not answered by the report is 'what is the effect of living in the presence at least two OCP's?"
"We understand that for people in the community this issue may be causing anxiety and uncertainty and we certainly don't want to alarm residents."
"The people who have approached our Geelong office are concerned with a period of time from the late 1990's to the early 2000's."
"We want to understand exactly what has happened, and we believe this brief report, compiled in a matter of weeks fails to adequately probe the issue."
"We will do everything we can to get answers for the people of the Bellarine that have lost loved ones." Ms Schutze said.
No win, no fee
Help when you need it most without the added stress of upfront legal fees engaging a
no win, no fee lawyer. When you need legal help, understandably, the first thing people often think is 'can I afford it? To address this, our Senior Partner, Peter Gordon and Partner, Paul Henderson pioneered the 'no win, no fee' system to create greater access to the legal system.
We are here to help
When you're ready, give us a call or click on the button below to send us a message. It will go straight to a caring and committed member of our team who will contact you within 24 hours.