Work Accidents and Work Related Injuries
What is an injury at work?
A work injury is an injury that arises out of or in the course of your employment. This means a work accident or injury is not just limited to those physical injuries that happen at the workplace while you are working – they include almost all injuries that occur as a result of your employment, or are a work related injury.
The question to be asked is whether your employer was a "significant contributing factor" to your work accident or injury.
Work injuries can also include (but are not limited to):
Injuries that occur at your place of employment.
Injuries that occur on work premises.
Injuries that occur on your lunch break, or other authorised breaks;
While driving for your work.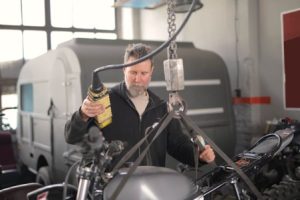 How much do I get paid if injured at work?
In Victoria, the WorkCover scheme provides compensation for workers who have sustained an injury in the course of their employment. If you have sustained a work related injury, then you may be entitled to claim compensation under the scheme.
WorkCover is a 'no fault' scheme, meaning that injured workers are able to make a claim regardless of who is at fault. The injury does not need to be serious in order to make a claim, although the severity of the injury, including a degree of permanent impairment, may influence compensation entitlements.
In some cases, if you have suffered a serious injury at work or a work related injury, as a result of your employer's negligence, you may also be able to pursue a common law claim for damages. Your employer has a duty of care to provide you with a safe workplace. If this has been breached, and you have sustained a serious injury or illness, you could be entitled to seek compensation for your pain and suffering and loss of income.
The amount of compensation you may be entitled to will vary depending on the circumstances of the work accident or injury. Broadly speaking, you may be able to claim:
Medical and hospital expenses including treatment and rehabilitation costs;
Weekly payments (a percentage of your regular wages if you are unable to work);
A lump sum payment if the accident results in permanent impairment;
Damages for pain and suffering, loss of enjoyment of life, loss of amenities and potentially also loss of income (past, present and future) if the injury occurred in negligent circumstances and is serious;
Legal costs associated with your claim.
What should you do if an injury occurs in the workplace?
It is important that you report any work accident or injury which occurred in the workplace to your supervisor or employer.
Victorian legislation requires all workers to report a work related injury within 30 days.
Employers are also required to have a mechanism of reporting on site for workers to report an injury.
Increasingly these reporting mechanisms are electronic. Make sure you get a copy/photo of the incident/injury report you enter.
A work accident report can be used as solid evidence if you wish to make a compensation claim for your injuries.
If an injury has occurred in the workplace, you should immediately seek appropriate medical treatment. Call 000 if there is an emergency. You can choose your own healthcare provider.
If there has been a notifiable work related injury, which includes serious injury or death, your employer needs to notify WorkSafe immediately on 132 360. The employer must also comply with their WorkSafe reporting requirements accordingly.
You should complete a Worker's Injury Claim Form and provide it to your employer at the earliest possible time. People will often ask when they should lodge a claim form. Our recommendation would be as soon as possible or within 3-4 doctors visits, 3-4 physiotherapy visits or 3-4 psychology visits.
Finally, if you want information about your rights and entitlements following your injury, you should contact a lawyer for legal advice on your potential entitlements.
What are the most common injuries in the workplace?
Injuries sustained at work can vary widely depending on your job and your workplace environment.
Below are three examples of accidents that are seen across almost all workplaces:
Slips, trips and falls
Slips, trips and falls are a very common type of work accident. Whatever your job and wherever your workplace, you are likely to come across a slippery surface or uneven flooring at some point. Falls from ladders or scaffolding are also common and can cause very serious injuries for accident victims.
Body stressing
Body stressing is another common type of work related injury and often involves muscle strains from lifting, carrying or putting things down. This type of injury can be caused by repetitive stress on muscles, ligaments and tendons over a long period of time, or it can happen suddenly – like slipping a disc.
Falling objects
Being hit by falling objects is not only a work accident reserved for warehouse workers – it can happen wherever items are stored overhead and can cause serious injuries to the head, neck or back.
What to do if this information applies to you
At Gordon Legal, we understand that being injured at work is a personal issue.
For personalised and individual advice, we offer consultations to discuss your matter.
Please call Gordon Legal on 1800 21 22 23 or our Geelong office on 1800 21 22 23 to speak with one of our experienced workplace injury lawyers about your entitlements.
No win, no fee
Help when you need it most without the added stress of upfront legal fees engaging a
no win, no fee lawyer.
When you need legal help, understandably, the first thing people often think is 'can I
afford it?' To address this, our Senior Partner, Peter Gordon and Partner, Paul Henderson pioneered the 'no win, no fee' system to create greater access to the legal system.
We are here to help
When you're ready, give us a call or click on the button below to send us a message. It will go straight to a caring and committed member
of our team who will contact you within 24 hours.