21/05/2020
By Anastasia Eleftheriou, Principal Lawyer and Accredited Specialist, Personal Injury Law
If you or someone you care about is injured in a motorcycle accident, life can be turned upside down. The ability to focus on your recovery can be difficult when you are faced with trauma and financial uncertainty.
We are here to assist you with personal injury claims during this challenging time by obtaining compensation from the Transport Accident Commission (TAC). The TAC will pay compensation to road users who are injured while travelling as a motorcyclist. The TAC also pays compensation if someone dies as a result of a road accident.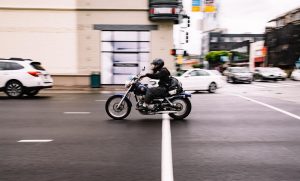 The amount you receive will depend on the extent of your injuries and what happened in the accident.
What to do after a motorcycle accident
Report the accident to the police or public transport operator
Take down the details of the other driver
Take down details of any witnesses to your accident/injury
Take photographs of the damage to all vehicles involved in the accident
If you can, take photos of your location, the resting position of all vehicles involved in the accident and your surrounds
Seek medical treatment if you believe you have suffered an injury
How to make a motorcycle accident claim
Contact the TAC by phone to make a claim for any injuries you have sustained. You will need details of the accident, vehicles and people involved, any witnesses or police, medical treatment and employment.
You can book a free appointment with one of our TAC lawyers to get expert advice on what your entitlements are.
How much is a good settlement for a motorcycle accident?
Gordon Legal personal injury lawyers are here to ensure you get a fair settlement. If you have suffered an injury as a result of an accident, the TAC can cover a range of entitlements including medical and like expenses, loss of income (loss of earning payments) and possible lump sum claims, namely impairment benefit and possibly a claim in negligence if the other driver(s) were at fault for the accident
Your compensation may vary depending on how bad your injuries are, your age, how much care is required, how much you have paid out of pocket and how much you have lost or will lose in wages.
Does no fault insurance cover motorcycle accidents?
If you have been injured while riding a motorcycle, either as the driver or passenger, you are entitled to certain benefits from the TAC regardless of who is at fault. These benefits may include medical expenses, loss of income payments and lump sum benefits if your accident-related injuries caused permanent impairment.
What to do if this information applies to you
At Gordon Legal, we understand that TAC claims are a personal issue.
For personalised and individual advice, we offer consultations to discuss your matter.
Please call Gordon Legal on 1800 21 22 23 or our Geelong office on 1800 21 22 23 to speak with a member of our team.
Given the current environment, we are providing consultations over the phone, Zoom, WebEx or Skype.
No win, no fee
Help when you need it most without the added stress of upfront legal fees engaging a
no win, no fee lawyer. When you need legal help, understandably, the first thing people often think is 'can I afford it?'To address this, our Senior Partner, Peter Gordon and Partner, Paul Henderson pioneered the 'no win, no fee' system to create greater access to the legal system.
We are here to help
When you're ready, give us a call or click on the button below to send us a message. It will go straight to a caring and committed member of our team who will contact you within 24 hours.